Cosmetic Dentistry
Smile Brighter & Feel Better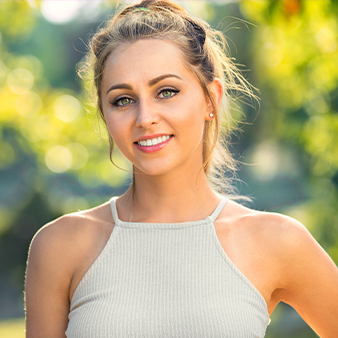 Your smile is probably one of the very first things people notice when they meet you. What kind of impression do you think it is giving? If you frequently feel self-conscious because of discolored, chipped, cracked, or gapped teeth, then you're far from alone. At Creekview Family Dentistry, we're happy to provide a wide array of cosmetic services that can make longstanding flaws quickly disappear behind a big, bright, and beautiful set of teeth you'll always be eager to show off.
Why Choose Creekview Family Dentistry for Cosmetic Dentistry?
Porcelain Veneers: Smile Like the Stars in Just 2 Appointments
Cosmetic Bonding: Get Rid of Minor Stains & Gaps in an Hour
Beautiful Dental Office Located Right Next to the Lake
Porcelain Veneers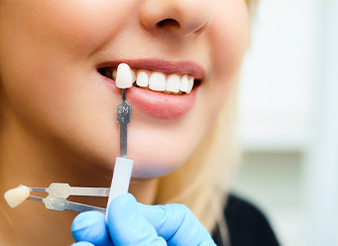 If you want your smile to look as perfect as your favorite celebrity, then you should get the same treatment they likely did: porcelain veneers. Eggshell-thin ceramic coverings are applied to the front of the teeth that can instantly mask/fix an entire range of imperfections at the same time, creating a row gorgeous teeth. They are always custom-made based on a patient's specifications and the process to get them requires just two appointments.
Metal Free Dental Restorations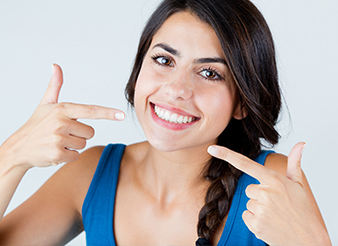 Have a damaged tooth that shows prominently in your smile? Worried that your dentist will use a gold or silver crown to fix it? Well, if we're your dentist, that definitely won't happen! Instead, we can use an all-porcelain crown to seamlessly repair your tooth and enhance your smile's appearance at the same time. These restorations look just like real enamel, and they're also able to stand up to everyday chewing forces, meaning you can trust them whether you're greeting a friend or taking a bite of your favorite food.
Cosmetic Dental Bonding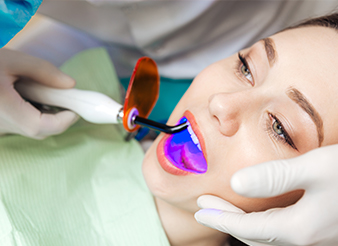 If you only have an hour to spare in your busy schedule, then you have plenty of time to get rid of a minor stain, thin gap, or small crack in your smile. Here, your dentist can apply a composite resin to your tooth and sculpt it to hide any offending flaw. Once it has been hardened with a curing light, it will seem like nothing was wrong with your tooth in the first place. The entire process takes the same amount of time as your average lunch break, but the results can easily last for a decade or more.
Teeth Whitening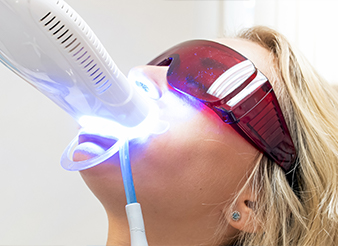 As the years go by, it's natural for the teeth to lose their luster. Whether due to coffee, wine, tea, tobacco, or natural aging, your smile just isn't as bright as it used to be. Fortunately, it doesn't have to stay that way. With Zoom! Teeth Whitening, we can quickly break up even the deepest dental stains to make your teeth six to eight shades brighter in a single appointment. Then, we can send you home with your own custom-made kit to ensure your smile stays the same stunning shade.