Implant-Retained Dentures
A Complete New Smile Just for You
If you have lost all or most of your teeth, you may suffer from some significant daily challenges, such as difficulty eating. You might even hesitate to smile due to embarrassment over an incomplete smile. Fortunately, modern dentistry offers a solution that can rebuild your lost teeth and provide you with a functional bite, a natural-looking smile, and maybe even some new confidence. The team at Creekview Family Dentistry is ready to help you with implant-retained dentures in Lewisville.
Why Choose Creekview Family Dentistry for Implant-Retained Dentures?
Start to finish implant treatment
Natural-looking, sturdy results
Experienced, empathetic dental team
How Do Implant-Retained Dentures Work?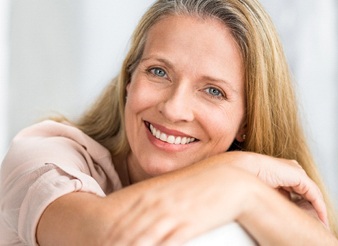 Whereas traditional dentures stay in the mouth via natural suction or with the help of a mild adhesive, implant-retained dentures are different. They are anchored in the jawbone via a number of strategically placed dental implants (usually 4 – 6). In some cases, the denture is a removable prosthetic that "snaps" onto and off of small attachments on top of the implants. It is sometimes possible to retrofit a traditional denture to work in such a way. In other cases, the denture is permanently fixed to the implants and can only be removed by a trained professional.
Am I a Candidate for Implant-Retained Dentures?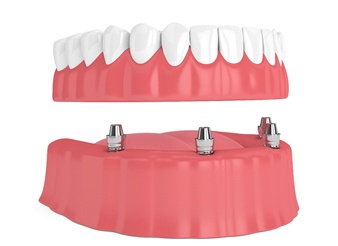 You may be a candidate for implant-retained dentures if:
You have lost all or most of your natural teeth, or you know that many of your teeth will soon need to be extracted.
You are tired of the hassles of a traditional denture and want a sturdier, more natural-feeling alternative.
You have adequate bone density in your jaw to support dental implants.
You have excellent oral hygiene habits and are determined to comply with your dentist's instructions for making the implants succeed.
To find out for sure whether implant-retained dentures are right for you, schedule a consultation with our friendly, knowledgeable team.
The Implant-Retained Dentures Procedure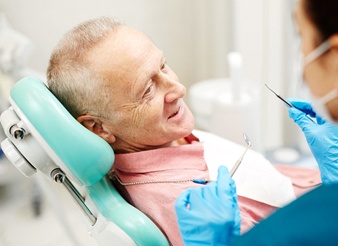 After your initial consultation and any necessary preparatory work, Dr. Matthew will perform the implant placement surgery. Following the surgery, your body will need some time to heal and to bond with the dental implants. This process, known as osseointegration, can take several months. You may have to undergo a second surgery later on, wherein abutment (connector pieces) get attached to the implants. Once the implants are ready, we will design your custom-made denture. After a dental laboratory fabricates it, we will give you some detailed pointers on how to use it and care for it before we send you on your way with your new smile.
Benefits Of Combining Dentures & Dental Implants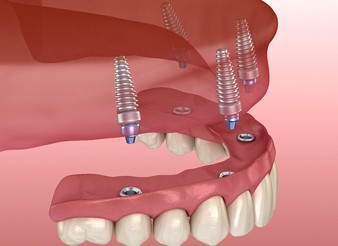 Combining dentures and dental implants comes with some significant benefits:
The implants stabilize the dentures and allow you to have a strong bite force. They also make sure the dentures do not slip out of place during speaking.
Because the implants bond with the tissue around them, they help to keep the jawbone whole and strong.
Traditional dentures may need to be replaced every 5 – 8 years or so due to changes in the way they fit. Implant-retained dentures typically last much longer.
Are you ready to learn more about implant-retained dentures and how they may benefit you? Contact Creekview Family Dentistry to schedule your dental implant consultation.