Get to Know Elizabeth T. Samuel, DMD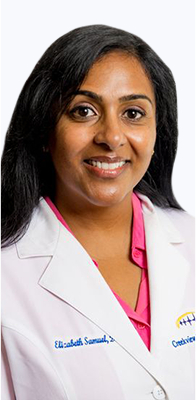 With over 20 years of experience in the dental field, Dr. Samuel is proud to be a long-time "Converted Texan" who always goes the extra mile to help her patients smile brighter while in the treatment chair. Knowing that they are happy and comfortable with her provided services is always such a wonderful feeling! Keep reading below to learn more about her.
Experience: 20+ Years
Education: Rutgers School of Dental Medicine
Specialties: Prosthetic Dentistry, Restorative Dentistry, CEREC, Sleep Apnea Therapy & Cosmetic Dentistry
Why Did You Decide to Become a Dentist?
When choosing a career path, Dr. Samuel originally wanted to become a pediatrician, but throughout her college years, she developed a growing fascination with the dental profession and ended up never looking back. She met amazing mentors along the way who inspired her to enter the field – you could even say that the Lord led her straight to this amazing job!
Where Did You Study Dentistry?
After attending New York University for her undergraduate degree, Dr. Samuel chose to pursue her Doctor of Dental Medicine at the Rutgers School of Dental Medicine in New Jersey. Over the course of her career, she has also completed extensive training in several different dental specialties, including dental crowns, fillings, CEREC, sleep dental medicine, and cosmetic dentistry like porcelain veneers and Snap-On Smiles.
Outside of the Dental Office, What Do You Like to Do?
Dr. Samuel's amazing husband is a native Texan and owns Goodfellas' Brick Oven Pies in Frisco, TX. They also have two beautiful children at home. When she isn't busy at the dental office, her biggest priorities are spending quality time with family and friends and staying active in her church. In particular, she loves putting together large gatherings like Thanksgiving and Christmas parties! Other hobbies include going to museums, traveling, and embarking on mission trips. In past years, she's traveled to Ethiopia, India, Guatemala, Ecuador, and Honduras for missions.