Invisalign
Clear Orthodontic Treatment for Straighter Teeth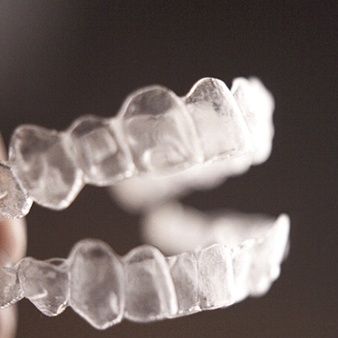 If you think the only way to achieve a healthier, straighter smile is with traditional metal brackets and wires, Creekview Family Dentistry is happy to tell you there is an alternative treatment. Using clear, plastic aligners, Invisalign in Lewisville will give you desired results in less time than it takes with regular braces. Whether you are a working professional who wants to make presentations at work without a metal spotlight on your mouth, or you are just ready to do something about your poorly aligned teeth and want a more subtle method of treatment, we can help you! To schedule a consultation, contact our office.
How Does Invisalign Work?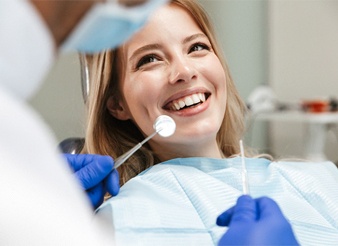 To start, you will need to schedule a consultation with one of our qualified dental professionals. During this initial visit, you will discuss your goals and what you hope to achieve with Invisalign, as well as have your mouth fully examined. This will tell us if you are a good candidate for Invisalign, as well as how long we can expect your treatment to last.
After taking digital impressions of your smile, we will map out your smile sequence, so you can see how it will progress throughout treatment. Sending these images off to a dental lab, technicians will begin to craft your customized aligners.
Once we receive your trays in our office, you will return to have your first set of aligners fitted. You will be expected to wear your clear aligners for 20-22 hours each day, only removing your trays when eating, drinking, or cleaning them. After 1-2 weeks of wear, you will switch out your trays for the next set in the series. With each new set, you can expect to see your teeth gently shift in the proper direction. While you might experience some mild discomfort, an over-the-counter pain reliever can help.
Depending on your individual treatment plan, you can expect to see results in as little as 12-18 months. However, just because you are done with Invisalign doesn't mean you're done with treatment. It will be necessary for you to wear a retainer afterward, so your teeth won't shift back into their original position.
Indications for Invisalign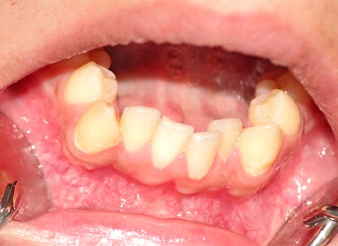 Fortunately, Invisalign can be used to treat various types of orthodontic problems, including:
Crowded Teeth
When your teeth are sitting too close to each other, you may experience problems keeping them clean. If proper brushing and flossing cannot be achieved, it raises the risk that you will develop gum disease and tooth decay. By wearing Invisalign, the aligners will work to shift your teeth in a way that creates necessary space, so your new smile will be aligned, making it possible to have an improved appearance and healthier smile.
Space Between Teeth
Unlike teeth that sit too close together, gapped teeth can also pose a problem. Whether it's a large gap between your two front teeth or gaps that exist along the sides of an arch, harmful bacteria and food particles can become trapped, leading to similar problems: gum disease and tooth decay. With Invisalign, we can officially "close the gap" and have you seeing a new and improved smile in no time at all.
Bite Alignment
Your bite can affect many aspects of your oral health. From excessive wear and tear on your teeth to increase jaw pain resulting in the need for TMJ Therapy, it's important that your bite is properly aligned so all areas of your mouth work together correctly. Overbites, underbites, crossbites, and open bites can all be corrected with the help of Invisalign.
What Are the Benefits of Invisalign?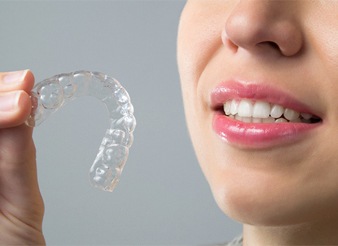 When attempting to choose which method of orthodontic treatment you wish to pursue, here are a few benefits that might make you lean towards Invisalign:
Faster results
Practically invisible method of treatment
No irritation to the soft tissues of your mouth
Easy to clean and maintain
Fewer visits to your dentist office
No restrictions from your favorite foods and/or beverages
Understanding the Cost of Invisalign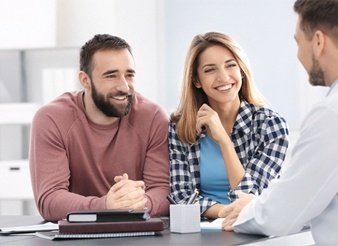 Because all patients are different, there is no set price associated with clear braces in Lewisville. In order to provide you with a clearly defined estimate, we will consider a wide range of factors and discuss them with you during your initial consultation.
Some of these factors include:
The severity of your dental problem
How many clear aligners you will need to have successful results
Your age
How dedicated you are to wearing your aligners the recommended amount of time