Get to Know Mayada Al-Tamimi, DMD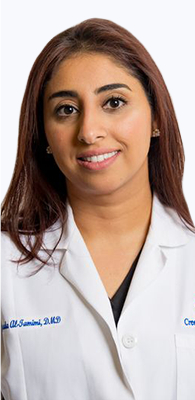 Dr. May's dental career spans nearly 15 years so far, and she loves being able to help her patients smile brighter and regain their much-deserved health through dedicated care. Her bright, funny nature helps all of our new arrivals feel at ease from the very first appointment. Interested in learning more about her? Just keep reading below.
Experience: 15+ Years
Education: University of Montreal
Specialties: General Dentistry
Why Did You Decide to Become a Dentist?
Dr. May decided to join this field because it combines science with art; she also finds it very rewarding to assist others in improving their appearance, health, and overall sense of self-confidence. She always goes the extra mile to be very attentive to each patient's needs, thoroughly explaining treatment options so that everyone can make the decisions that fit their situation best. She can't imagine herself doing any other type of job!
Where Did You Study Dentistry?
Dr. May completed her Doctor of Dental Medicine at the University of Montreal in 2005. Following that, she chose to attend a General Practice Residency at McGill University in Montreal from 2005 to 2006.
Outside of the Dental Office, What Do You Like to Do?
Dr. May is happily married with two children at home. Whenever she has free time, you can typically find her hanging out with her loved ones and enjoying the beautiful outdoors.