How Dental Implants Work
Your Journey to a Brand-New Smile
When it comes to tooth replacement, dental implants are truly in a class of their own. They're durable, powerful, and incredibly realistic. In addition, they're easy to maintain and offer a tremendous amount of oral health benefits. But how exactly does the process of getting dental implants in Lewisville go? Keep reading to get a brief idea of what the process entails, from your very first consultation to the moment you step out of our office with your new smile.
Initial Dental Implant Consultation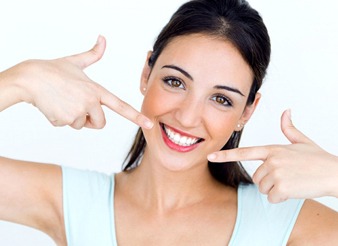 During this appointment, our team will conduct a thorough examination of your mouth and jaw, including x-rays, and talk to you about your smile goals and your overall health. We'll also answer any implant questions you may have. After this exam, we can determine whether implants are the right treatment for you. If they are, we'll let you know which steps you should take to get your new and improved smile. Some patients need preliminary procedures, like gum disease treatment or a bone graft, adding time to their journey to a brand-new smile. Other patients can go right ahead and schedule their implant placement surgery.
Dental Implant Surgery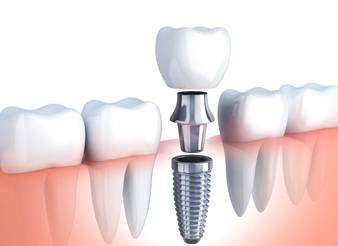 Your trusted implant dentist in Lewisville, Dr. Mathew, can perform the dental implant surgery right here in our office. This conservative procedure involves creating a small incision in your gum tissue and jawbone and placing the implant posts in strategic locations. Don't worry; thanks to local anesthetic and sedation, you should feel minimal discomfort during the procedure. After the incisions have been closed, your body will begin the near-magical process of osseointegration.
Dental Implant Osseointegration & Abutment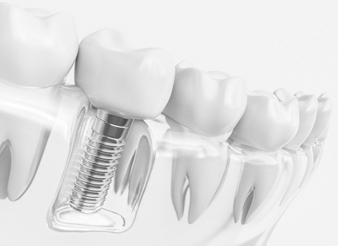 Osseointegration refers to your jawbone's ability to grow around the dental implants posts until the two are essentially one. This remarkable process takes a few months, but the wait is well worth it to have a sturdy smile that can stand the test of time. After your implants have fused to your jawbone, we will attach an abutment, or a metal connector piece onto which your restoration (crown, bridge, or denture) can be placed.
Placement of Dental Implant Restorations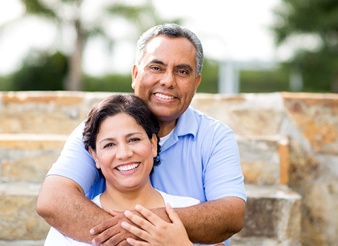 The last step of the process is the most exciting – it's when you finally get to receive your new smile! Our team will create a stunningly lifelike restoration to be attached to your implant and abutment. Once your crown, bridge, or denture arrives from our dental lab, we'll call you to let you know that a part of your new smile is here. After we've restored your implant, we'll send you on your merry world to show the whole world your new and improved grin!