Dental Implants
Tooth Replacement for the 21st Century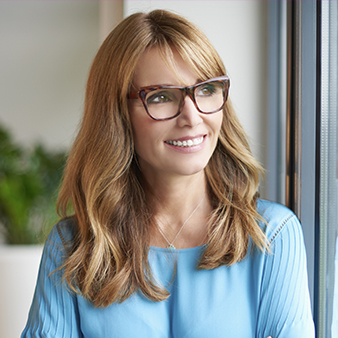 Dentistry has advanced by leaps and bounds over the past two decades alone, and the greatest breakthrough has come in the form of dental implants, a state-of-the-art type of tooth replacement. Instead of only bringing back the part of the tooth you can see, it restores the entire tooth from the root up, providing the very best results when it comes to both function and appearance. For patients who are ready to rebuild their smiles in Lewisville, the team at Creekview Family Dentistry can use implants to help them recover not just their bite, but also their confidence for a lifetime to come.
Why Choose Creekview Family Dentistry for Dental Implants?
Entire Procedure Completed Under One Roof
Flexible Payment Options Suited for Any Budget
Quality Results That Will Last a Lifetime
Benefits of Dental Implants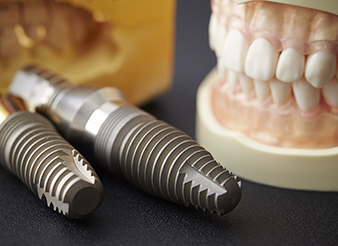 What makes dental implants so special compared to regular bridges and dentures? We're glad you asked…
Complete Support: Dental implants work by having a small titanium post placed into the jawbone to act as a new tooth root. This is then used to support a new crown, bridge, or denture. Thanks to this foundation, patients never have to worry about their new teeth slipping or breaking, no matter what they are eating.
Natural Appearance: Our implants are always topped with 100% custom-made porcelain restorations, giving them a look that faithfully mimics real teeth down to the finest detail.
Prevents Bone Loss: The jawbone naturally starts to atrophy after tooth loss, but with new dental implant roots, fresh blood flow and tissue growth are encouraged, helping a patient maintain a more youthful facial shape.
Built to Last: With normal oral hygiene and routine dental visits, a dental implant can easily last for 3 decades or more.
Indications for Dental Implants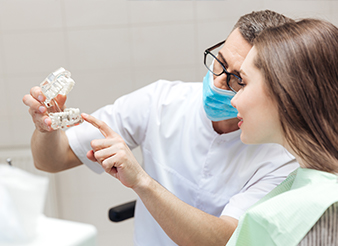 Dental implants are extremely versatile and can be used to help patients struggling with varying degrees of tooth loss…
Missing a Single Tooth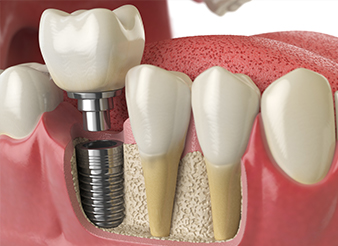 Typically, replacing a single tooth would involve filing down the teeth on either side of the missing one in order to place a bridge. Now, we can position an implant-retained crown in the mouth while leaving the nearby dental structure completely untouched.
Learn More About Single Tooth Implants
Missing Multiple Teeth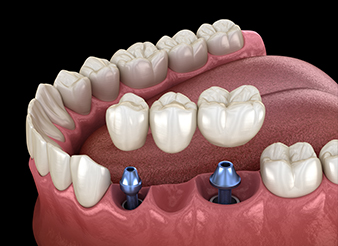 Dental implants can also be used to hold prosthetics that replace several missing teeth at the same time. Attached to a bridge or partial denture, implants give these prosthetics a much better hold and durability compared to their removable counterparts.
Missing All Teeth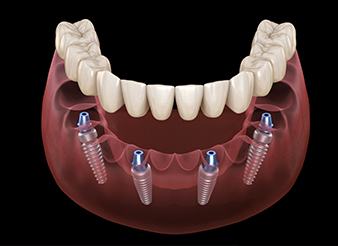 With just four to six strategically placed implant roots, our team can anchor a full denture to the jawbone. Compared to a regular denture, implant-retained ones are smaller and leave much more room in the mouth, creating a more comfortable fit. Plus, they also help a patient recover more of their bite strength, allowing for a more varied and nutritious diet.
Start to Finish Convenience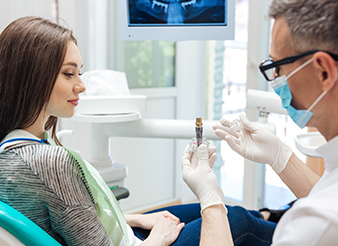 Most other dental offices in the area will send you to multiple dental offices in order to get dental implants, but thanks to our team's advanced training, we're able to provide everything patients need in-house. Dr. Mathew can perform the surgical placement of the new roots, and then our team can attach the restorations to them. This one-stop approach not only helps patients save time and money but stress as well, as they're able to work with the same trusted team throughout their implant journey.
Understanding the Cost of Dental Implants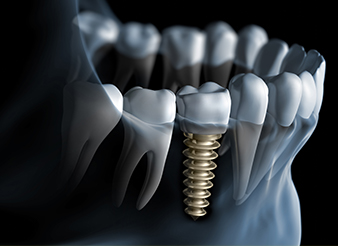 Every dental implant treatment we provide is completely personalized based on the needs of a patient, so this means the cost can vary from person to person. While dental implants do tend to be more expensive upfront compared to regular bridges and dentures, their longevity and low maintenance usually help patients save in the end. Rather than having to replace their new teeth every 5-7 years on average, implant patients can rely on the same restorations for multiple decades.
Dental Implant FAQs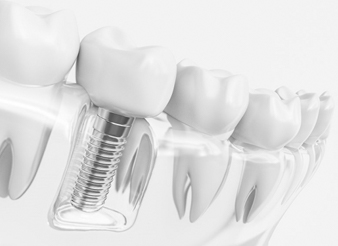 At Creekview Family Dentistry, we understand that dental implants are a huge investment, but one that's ultimately worth it to restore your smile. However, you undoubtedly have a few questions about some of the finer details about implants. Not to worry; we've assembled some of the dental implant questions we get asked the most frequently and answered them for your benefit. If you have a question about implants that you don't see answered here, don't hesitate to contact us and ask.
If I Smoke, Can I Still Get Dental Implants?
Yes, but you have to understand that there are risks involved. Using tobacco hinders the mouth's ability to heal, which is critical when it comes to the success of your dental implants in Lewisville. After you get implants, they merge with your jawbone in a process called osseointegration. Smoking or chewing tobacco dramatically slows down this process, increasing the likelihood that your body will reject the implant. If you have been looking for a reason to quit smoking, getting dental implants would definitely be it.
If I'm Diabetic, Can I Still Get Dental Implants?
Yes, but as with smoking, it comes with some risks. If your diabetes is poorly managed, it inhibits your body's ability to fight off infections, including gum disease, which could compromise the success of your dental implant. If you're considering getting dental implants and you have diabetes, talk to your endocrinologist or primary care physician about how to better control your blood sugar levels. Doing so could dramatically improve your chances of having a successful implant.
Why Do I Need a Bone Graft?
Many people need a procedure called a bone graft before they can receive a dental implant. This is because when you've been missing one or more teeth for a while, your jawbone begins to shrink in that area, since it no longer receives stimulation from your natural tooth roots. Implants stimulate your jawbone and prevent this problem from occurring again in the future, but for the time being, your jawbone may not be strong enough to accommodate implants. That's why we need to graft artificial bone tissue onto your jawbone and let it integrate with your natural bone. Over a period of a few months, your jawbone will be strengthened enough to support as many implants as you need.
Does Getting Dental Implants Hurt?
Actually, most patients report very little discomfort during the procedure, thanks to plenty of local anesthesia and sedation if necessary. In fact, many patients prefer getting a dental implant placed to having a tooth extracted. As with any kind of oral surgery, you can expect some soreness for a few days afterwards, but we can prescribe pain relivers to help you alleviate your discomfort. Only take it as directed on the bottle.