Gum Disease Treatment
Dental Care for Your Entire Mouth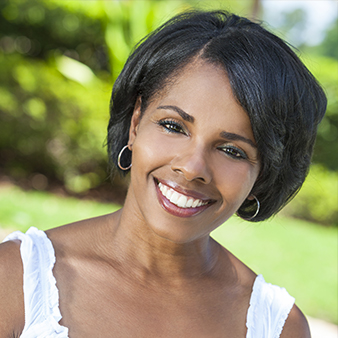 When it comes to your oral health, your gums matter just as much as your teeth! While the teeth can develop cavities due to a lack of hygiene, the gums can actually develop an infection called gum disease. Symptoms include redness, swelling, bleeding, chronic bad breath, and without treatment, tooth loss! At Creekview Family Dentistry, we're ready to safeguard your entire smile, and if we find any indication of gum disease, we'll be able to take care of it right away with a variety of special treatments.
Why Choose Creekview Family Dentistry for Gum Disease Treatment?
Deep Cleanings Provided by Expert Hygiene Team
Fast & Painless Laser Gum Therapy
Convenient Morning, Evening, & Saturday Hours
Scaling & Root Planing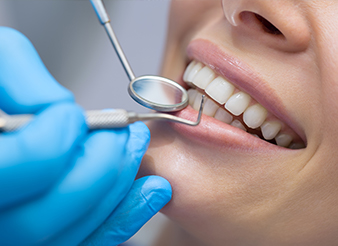 When caught early, gum disease can usually be treated just using a special type of dental cleaning called scaling and root planing. This is a two part process in which bacteria is removed from along the gum line and then the roots of the teeth are gently smoothed out. This not only helps the gums reattach to the teeth, but it also prevents the buildup of plaque that caused the infection in the first place.
Antibiotic Therapy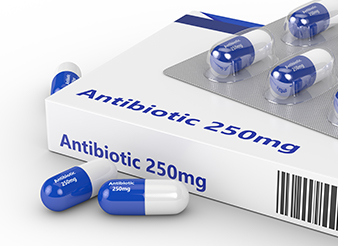 There are tiny spaces located between your teeth and gums called periodontal pockets, and these hard to reach areas are where gum disease bacteria primarily likes to gather and multiply. To clean them, we can apply a topical antibiotic to the gums. There, it will initially dry, and then it will slowly dissolve over the next few days, enabling the medicine to seep down and kill even the most well-hidden bacteria.
Soft Tissue Laser Dentistry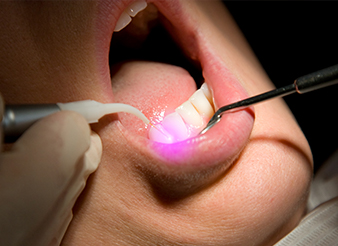 For more severe cases of gum disease, our team can use a soft tissue laser to quickly remove bacteria from deep below the gum line. This small device emits a concentrated beam of light that literally vaporizes bacteria while leaving the actual gum tissue untouched. The end result is an effective treatment that is also very comfortable. In fact, most patients don't even need anesthetic during laser therapy to stay completely relaxed.