September 1, 2018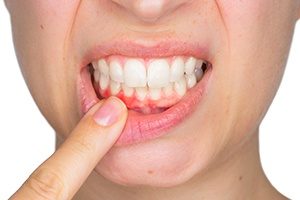 Gum disease is something that most people don't pay attention to until problems arise. That's a shame, because gum disease threatens more than your teeth – it can impact your general health, too. Dr. Shirley Mathew of Creekview Family Dentistry in Lewisville, TX provides gentle and effective treatment for gum disease.
Those Darned Bacteria
Gum disease is caused by some of the bacteria that live in everyone's mouth. It's normal and natural to have bacteria in the mouth, but there are some kinds that can cause problems.
Gum disease begins with certain bacteria combining with saliva to produce a thin, sticky film. That film is known as dental plaque, and it forms around the teeth on the gumline. That keeps the bacteria in close contact with your gums and tooth enamel. When the bacteria feed off the sugars in our foods and beverages, they secretes acids which attack the enamel and irritate the gums.
Plaque is easily removed by regular brushing and flossing which is why it's important to be regular and thorough in taking care of your teeth. Plaque begins to re-form within 24 hours of being removed. If plaque is left undisturbed, the gums become red or even dark purple, may become swollen and tender, and may bleed when you brush and floss.
This is the first stage of gum disease which is called gingivitis. Gingivitis can be treated in most cases by a thorough professional cleaning that removes every trace of plaque. Once the acids aren't irritating the gums or attacking tooth enamel any longer, things can get back to normal.
Even people with good oral health habits can experience gum disease. It's hard to reach every single nook and cranny in the mouth with a toothbrush, so plaque may for in spite of your best efforts.
When Things Get Worse
Given time, plaque hardens into dental calculus, or tartar. Tartar is even harder than your tooth enamel; there's no way you can brush or floss it away. With the continued irritation, the gums begins to pull away from the teeth letting disease-causing bacteria get a foothold beneath the gumline. Pockets of infection can form, and the ligament that helps stabilize and hold your tooth in place can be attacked. In time, the tooth can simply fall out.
That may be hard to believe, but gum disease is the number 1 cause of tooth loss among adults.
Beyond tooth loss, long-term gum disease has been linked with a host of health problems:
Heart disease

Lung problems

Poor diabetes management

Rheumatoid arthritis

Various forms cancer

And many more
In this more serious stage of gum disease, called periodontitis, professional dental care is an absolute must to avoid tooth loss and/or serious health problems.
Count On Dr. Shirley Mathew
Dr, Mathew is dedicated to the dental health and the overall health of her patients. She'll carefully remove every trace of plaque and tartar above and below the gum line through processes like dental scaling and planing. She'll take other treatment and preventative actions depending on your particular situation.
Don't take chances with your teeth or your health. Schedule a dental cleaning and examination with Creekview Family Dentistry in Lewisville, TX by calling 972-505-3423 today.   
Comments Off

on Watch Out For These Gum Problems
No Comments
No comments yet.
RSS feed for comments on this post.
Sorry, the comment form is closed at this time.