October 23, 2019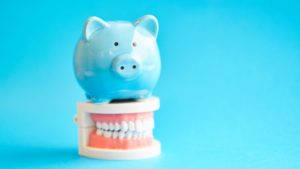 Have you heard about an easy way to save potentially hundreds of dollars a year? By scheduling a checkup and cleaning with your family dentist in Lewisville! You might be thinking that it sounds counterintuitive. How can going to the dentist save you money? Let's talk about how, and why you should maximize your dental insurance benefits before the end of the year.
How Does Going to the Dentist Save You Money?
Let's say you have a tiny cavity that your dentist in Lewisville notices at your checkup. You can get it corrected with a simple filling, often at little or no extra cost to you. However, if you avoid your checkup, that small cavity could get worse and worse over time. The decay could spread to the sensitive inner layer of the tooth, causing a severe toothache. You might need a root canal or even a tooth extraction at that point, both of which are expensive and time-consuming procedures which are often not fully covered by insurance.
As you can see, going to your regular checkups and cleanings is beneficial to your health as well as your wallet. Your dentist can check for signs of not only cavities, but more serious issues like gum disease and oral cancer. By getting these problems dealt with as soon as possible, you're saving yourself lots of time and money, and potentially even saving your life.
Why Should You Visit Your Dentist Before the End of the Year?
If you're paying your premiums for your dental insurance, you're already covered for two preventive visits a year, so you might as well go. After all, why pay for something and not use it? Your insurance company covers a certain amount of money each year to pay for dental visits, usually enough for two visits and some minor restorative work. Your benefits do not roll over at the start of the new year, so you might as well use them before you lose them when the calendar changes.
Another reason you might want to attend your dental visit now is to avoid potential copay increases in the new year. Some dentists subtly raise their rates at the beginning of the year to pay for cost of living, new technology, membership fees, etc. By going to your appointment before the new year rolls around, you might be paying a smaller copay than you would in January.
Not many people know that you can save some serious money by visiting your dentist twice a year. Now that you do know that, hopefully you put that knowledge to good use and see your dentist before the year is over!
About the Practice
At Creekview Family Dentistry in Lewisville, TX, we practice what's called "total health dentistry," where we focus on treating the patient as a whole, not just their mouth. Dr. Mathew, Samuel, and Al-Tamimi are able to treat a wide variety of dental and health issues under one roof, and they welcome growing smiles of all ages. We also accept most major dental insurance plans. To book your next checkup and cleaning, visit our website or call us at (972) 459-1100.
Comments Off

on Use It or Lose It: Time to Maximize Your Insurance Benefits
No Comments
No comments yet.
RSS feed for comments on this post.
Sorry, the comment form is closed at this time.