December 8, 2019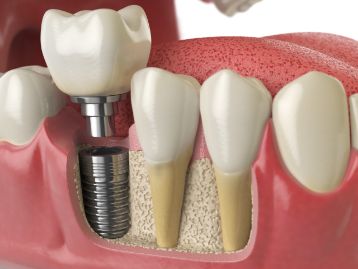 Did you know that an estimated 5 million dental implants are placed each year? While that may sound like a lot, it's no surprise that so many people have this procedure done. Implants give you a smile that looks, feels and functions more naturally than anything else. Not to mention that they can last 30 years or more with proper maintenance. But while the many benefits of implants are undeniable, it's still a good idea to do your research to help you make the right decision. Keep reading to learn about the top 5 factors to be aware of before getting dental implants in Lewisville. With this information, you'll be one step closer to having a healthy, beautiful smile after tooth loss.
1. Smokers Have a Lower Long-Term Success Rate
Non-smokers have a long-term success rate of over 95%, but that drops to just 85% in smokers. If you use tobacco, talk to a dentist or doctor about help with quitting.
2. Implants Require a Minor Surgery
The word "surgery" may sound intimidating, but keep in mind that having a tooth pulled is also considered surgery. With that said, the procedure generally takes 1 to 2 hours per implant and involves placing a surgical-grade titanium post in the jaw. This is the same material that's used in hip and knee replacements and has been safely used for many decades.
After your implant surgery, it's usually recommended that you take 1 or 2 days off work to rest and recover. You can expect mild to moderate tenderness in the gums, but you can easily manage it by following any post-operative instructions and taking over-the-counter pain reliever.
3. Getting Dental Implants Isn't As Painful As You Think
Patients are always pleasantly surprised that their implant procedure was easier than they anticipated. It's often compared to having an extraction, and since you'll be fully numbed beforehand, you'll only feel pressure, not pain. There are also multiple sedation options available to help even anxious or fearful patients feel comfortable.
4. Everyone's Treatment Plan Will Be Different
Your smile is just as unique as you are, so your implant treatment plan will be customized to meet your specific needs. Factors that influence it include your general health, how many teeth you're missing, your budget, the health of your jawbone and more. During an initial consultation, you'll have a chance to discuss each of these factors and ask any questions you may have.
5. Maintaining Dental Implants Includes Getting Regular Checkups
It's important that a dentist can monitor your dental implants every 6 months to make sure they're functioning well. If they notice any problems early on (such as damage from clenching and grinding or inflammation from plaque buildup), it will be easier to treat the issue before it leads to implant failure.
About the Author
In addition to having more than 20 years of experience, Dr. Shirley E. Mathew has completed postgraduate training in multiple specialty areas, including dental implants. She's also a firm believer in the importance of educating her patients about their treatment options to help them make the right choice for their needs. If you're interested in dental implants in Lewisville or have any questions, she can be reached through her website.
Comments Off

on The Top 5 Things To Be Aware of Before Getting Dental Implants
No Comments
No comments yet.
RSS feed for comments on this post.
Sorry, the comment form is closed at this time.