February 6, 2020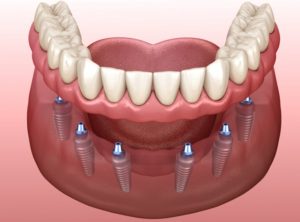 When you first got your dentures, you were so excited to be able to eat and smile like a normal person again. However, as the years went by, your new teeth started to not fit in the way they originally did. They sometimes slipped around and would occasionally even fall out of your mouth! If only there were a way to permanently solve this problem. Thankfully, there is – with dentures retained by dental implants in Lewisville. Keep reading to learn how implants can help preserve the health and beauty of your smile for years to come.
Common Denture Complaints
With traditional dentures, there are a lot of problems that can arise, such as:
Having to Be Relined Every Year or Two
When you suffer from advanced tooth loss for an extended amount of time, your jawbone gradually begins to shrink due to no longer being stimulated by the roots of your natural teeth. As a result, the fit of your dentures doesn't stay the same over the years. You have to get them adjusted, or relined, at least every couple of years.
Slippage
Traditional dentures may slip around in your mouth from time to time, especially when eating. They can even fall out, creating a truly awkward situation. Because of this, you may have to cut your food into smaller pieces and/or stick to a soft food diet.
Speech Problems
Sometimes your dentures may create a popping or clicking sound when you pronounce certain words. This can result in embarrassing moments.
How Dental Implants Can Help
Since traditional dentures in Lewisville can sometimes result in a whole host of issues, there is a solution that can benefit you greatly: getting dental implants. Don't worry, your dentist won't place an implant for every single missing tooth. Instead, they can place four to six strategically throughout your jaw to support a full or partial denture. Your new teeth can then be either permanent or removable, depending on your personal preference.
The benefits of implant-retained dentures are numerous, and they include:
Longevity. Dental implants are designed to last for at least 30 years. In fact, they can last even longer, possibly the rest of your life, if you take proper care of them.
No need for denture adhesive. Since implants are firmly anchored in your jaw, you no longer have to deal with messy denture adhesive.
Prevention of bone loss. Your jawbone will actually grow around the implants, preventing the bone loss that necessitates the need for a reline every few years.
Better nutrition. Patients with implant-retained dentures are better able to eat more nutritious crunchy and chewy foods, like apples and lean meats. Not only will it be easier to eat these foods, but your overall health will benefit too!
If you're having problems with your traditional dentures, it may be time to upgrade to a set anchored by dental implants in Lewisville. There's no better way to guarantee a full smile with better reliability, stability, and comfort!
About the Author
Dr. Shirley Mathew first opened the doors to Creekview Family Dentistry in 1998 and has never looked back. In her 20+ years of dental experience, she has earned a Fellowship with the Academy of General Dentistry, which involves completing over 500 hours of continuing education courses as well as a rigorous examination. She has also pursued additional training in dental implants, so she is perfectly qualified to place your new teeth. If you're getting sick and tired of your dentures, contact Dr. Mathew's Lewisville, TX office at (972) 459-1100.
Comments Off

on Sick of Your Dentures? Here's How Dental Implants Can Help
No Comments
No comments yet.
RSS feed for comments on this post.
Sorry, the comment form is closed at this time.