March 7, 2020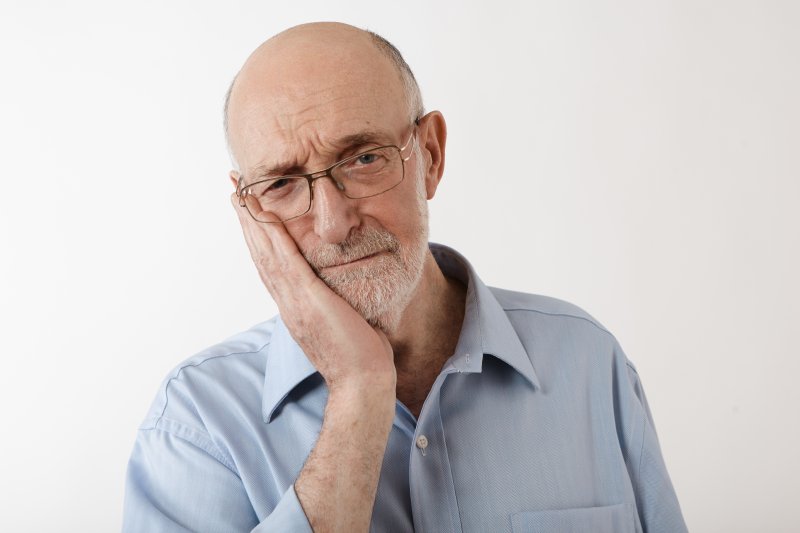 When it comes to replacing missing teeth, dental implants in Lewisville are considered the crème de la crème. That's because no other replacement method restores the entire tooth, from the root to the crown. With a 95% success rate across the board, dental implants are known for being extremely durable and their longevity (they can last 30 years or more). Unfortunately, they aren't infallible; thus, you need to know how to recognize any warning signs of one failing. As you continue reading, a local implant dentist lists some of the symptoms of an inoperative implant and the contributing factors.
Mobility
A key component in the success of a dental implant is your jawbone fusing with it through a process called osseointegration. Because the implant is made from titanium (which is considered biocompatible), your body is less likely to identify it as a foreign object. This allows for the fusion to happen, which involves new bone cells growing around the implant to permanently secure it.
Over time, if the implant feels wobbly and moves when you chew or talk, then it's a sign that the osseointegration wasn't complete and that the implant is failing.
Pain
Usually, the sensitivity related to having a dental implant placed will subside in around 10 days. If pain and discomfort become ongoing problems, then it could be a sign of lost or failed osseointegration. Two other related indicators are swelling and infection, as an improperly seated implant can allow bacteria access to the sensitive gums.
What Can Contribute to Dental Implant Failure?
Here are some of the short-term and long-term contributors to implant failure:
Smoking – Releases harmful toxins that can deprive the blood of the nutrients needed to heal the gums
Bruxism – Also referred to as teeth grinding, places the prosthetic under unusual stress that can cause an implant to unseat
Medications – Depending on the type taken, can lead to decreased jawbone density or dry mouth (encourages oral bacteria growth)
Poor Oral Hygiene – Failure to brush and floss at least two times a day to remove debris and oral bacteria
Why It's Important to Act Soon
If you notice pain, swelling, infection or mobility, then you should immediately bring it to the attention of your local dentist. Therefore, you can be examined, which will include the dentist taking some X-ray images.
The sooner you act, the less suffering you'll have to endure. Better yet, the process of fixing or replacing your implant-supported crown or dentures in Lewisville can possibly be much simpler. Therefore, you can get back to enjoying all that having a full set of teeth has to offer!
About the Author
Dr. Shirley E. Mathew is a graduate of University of Pacific's Arthur A. Dugoni School of Dentistry in San Francisco. As part of her dedication to excellence, she maintains professional affiliation with such organizations as the Academy of General Dentistry, Texas Dental Association and American Academy of Physiological Medicine & Dentistry. Dr. Mathew specializes in dental implantology at Creekview Family Dentistry, and she can be reached for more information through her website.
Comments Off

on If This Happens, Your Dental Implant is Likely Failing
No Comments
No comments yet.
RSS feed for comments on this post.
Sorry, the comment form is closed at this time.