April 3, 2020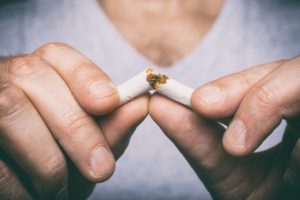 With the constant bleak news updates about COVID-19, stress and anxiety are permeating our daily lives. It's all too easy to let those feelings overtake us and cause us to develop unhealthy coping mechanisms. Unfortunately, some of these bad habits can negatively affect our oral health, leading to problems like broken teeth. To help you combat some of these issues, a dentist in Lewisville discusses some habits to avoid and how to quit them.
Smoking
Some people take up smoking as a way of taking the edge off the stress of the pandemic, but it just isn't worth it. Smoking not only stains your teeth, but it more than doubles your risk of developing gum disease, oral cancer, and ultimately losing your teeth. Your mouth (and your whole body) is much better off if you kick the habit. If you need help quitting, ask your dentist for resources. They should be more than happy to assist you.
Nail Biting
Biting your nails can be an unfortunately addicting habit that's also extremely harmful to your dental health. The force of nail-biting can wear down the enamel of your teeth and even result in it chipping, warranting an extra emergency trip to the dentist's office. Paint your nails with a clear, foul-tasting polish to stave off this habit. Alternatively, wear a rubber band around your wrist and snap it against your skin every time you think about biting your nails.
Constant Snacking
Tempting as it may be to spend your days stuck inside binge-watching and snacking on chips, doing so can be harmful to your teeth. Whenever you consume something starchy or sugary, bacteria in your mouth feed on those particles and create acid that erodes your enamel. This is actually what causes cavities. Frequent snacking gives these bacteria plenty of time to cause decay. It's much healthier to stick to three meals a day with only one or two snacks in between.
Healthier Stress-Reducing Activities
Instead of engaging in any of the harmful habits listed above, try these activities:
Working out. Even if you don't have a home gym, you can still get all the exercise you need by going on a walk around the neighborhood for at least 30 minutes a day. Just be sure to maintain six feet of distance between you and other walkers.
Keeping a journal. Writing down your thoughts is a great way to release stress. It's like you're transferring your anxieties out of your brain and onto the page.
Meditating. Practicing meditation once a day can make you a more mindful person. You will become more aware of your bad habits and more motivated to put a stop to them.
Although this whole pandemic can be extremely stress-inducing, there are ways to cope besides destroying your teeth. Call your dentist for more ideas on how to keep your mouth healthy during these times.
About the Author
Dr. Shirley Mathew is a dentist in Lewisville, TX who has earned a Fellowship with the prestigious Academy of General Dentistry. For more than 20 years, she has been providing excellent care in several aspects of dentistry, including orthodontics, sleep medicine, and dental implants. Should you find yourself needing resources to quit these destructive oral health habits, visit Dr. Mathew's website.
Comments Off

on 3 Bad Oral Health Habits to Avoid During Quarantine
No Comments
No comments yet.
RSS feed for comments on this post.
Sorry, the comment form is closed at this time.