April 23, 2020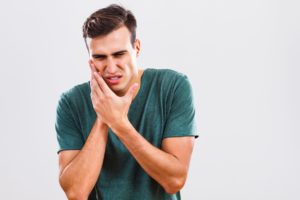 Are you experiencing out-of-the-ordinary dental symptoms, even if they're minor? Sometimes it can be hard to tell whether little problems like a small toothache or minorly chipped tooth warrant calling an emergency dentist in Lewisville. That's why, in this blog post, we'll go over some not-so-obvious signs that you need emergency dental care as soon as possible.
1. You Have a Loose Tooth
Once you've matured past adolescence, you should no longer experience loose teeth. This problem could be the result of a few things, such as an injury to the tooth or a serious gum infection like periodontal disease. Even if your tooth doesn't hurt and appears fine except for the wiggling, you should still contact your dentist right away to see if any treatment is needed.
2. Your Gums Bleed When You Brush and Floss
Many people mistakenly believe that seeing a little blood in the sink after cleaning their teeth is perfectly normal. The truth is that it's often an early indicator of gingivitis, the first stage of gum disease. While it's normal for your gums to bleed when you just start a new flossing regimen, it should subside after a few days. If this bleeding persists, you might need an evaluation from your dentist.
3. You Have a Serious Toothache
As a rule of thumb, healthy teeth do not hurt. If you are going through pain in one of your teeth that lasts more than a couple of days and/or isn't relieved by over-the-counter painkillers like ibuprofen, you might have a dental emergency on your hands. You should contact your dentist soon to get a proper diagnosis and determine which treatment method will best ease your pain.
4. Your Toothache Went Away
If you had been experiencing a painful toothache that subsides all of a sudden, that unfortunately doesn't mean the problem is getting better. In fact, it may mean that decay has spread to the nerve of the tooth, effectively rendering the tooth "dead." At this point, it's very likely that you'll need a root canal to save your tooth from having to be extracted.
5. You Have a Swollen Jaw
Swelling of any kind is a common side effect of a serious infection. Whether that infection is in your gums, tooth, or salivary glands (which is uncommon but still serious), you should alert your dentist right away. If you don't get your infection treated, it could spread to other teeth or even to other areas of your body through your bloodstream.
Dental emergencies are often more subtle than a broken or dislodged tooth. For optimal oral health, it's important that you pay attention to what's going on in your mouth to avoid an urgent dental emergency. If any of the situations described above sound familiar to you, contact your dentist in Lewisville as soon as possible.
About the Author
Dr. Shirley Mathew is a Fellow of the Academy of General Dentistry, and has more than 20 years of experience at Creekview Family Dentistry in Lewisville, TX. She has also pursued advanced training in dental implants, orthodontics, and dental sleep medicine. Her practice offers same-day appointments for emergency patients. If you are experiencing a dental emergency of any kind, don't hesitate to contact Dr. Mathew by calling (972) 459-1100.
Comments Off

on 5 Subtle Signs That You Have a Dental Emergency
No Comments
No comments yet.
RSS feed for comments on this post.
Sorry, the comment form is closed at this time.